Product Description
One of the largest 8mph mobility scooters from the 'Pride®  Scooter' range, the Colt Pursuit features a powerful drivetrain and large 33 cm (13") pneumatic wheels to handle rugged outdoor terrain. Luxury touches like a wraparound delta tiller and a new LCD console combine to give the Colt Pursuit a sleek, sporty style and a maximum level of comfort.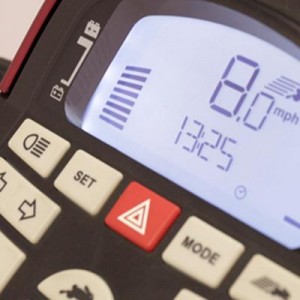 Weight Capacity:              28 Stone 8 lbs. (181 k.g)
Maximum Speed:            8mph (12 km/h)
Ground Clearance:          9.2 cm (3.625")
Overall Length: 135cm (53")
Overall Width:   63.5cm (25.9")
Turning Radius: 133.35 cm (52.5")
Tyres:    Front: 10 cm x 33 cm (4" x 13") pneumatic
Rear: 10 cm x 33 cm (4" x 13") pneumatic
Standard Controls:          LCD Display
Heaviest piece when disassembled:        43 kg (94.5 lbs.) front section
Total weight without batteries: 97.5 kg  (215 lbs.)
Seating:                High-back, fold-flat seat with headrest and seat belt
Suspension:       Front and Rear
Battery Requirements:  Two 12-volt, deep cycle
Size: 2 x 50 AH (standard) or 70 Ah (optional)
Weight: 50 AH: 14.8 kg (32.5 lbs.) each / 70 AH: 24 kg (54 lbs.)
Available in blue and red.