Many older people face mobility issues both at home and out and about, which requires the need for aids. Even moving around the house can be difficult when there aren't the necessary mobility aids in place. When they aren't in place, the risk of falling is increased, leading to further mobility issues.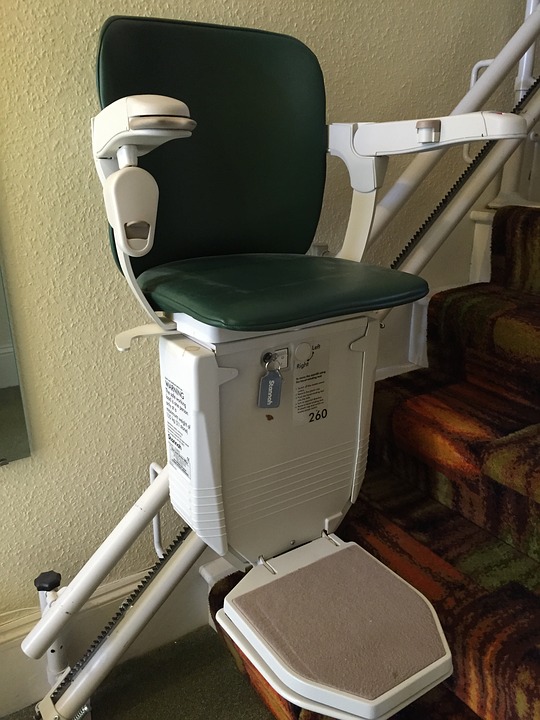 With so many mobility aids available today, we have put together some of the ones which would be good to consider for your home.
Stair Lift
For homes that have stairs in them, and you struggle to get up, and down them, a stair lift could be a worthy investment. A stair lift enables users to swiftly, safely and efficiently navigate stairs, even if the stairs are deep and narrow. Stair lifts can be fitted into almost any home, and there are plenty of models to choose from to suit individual needs. Having a stair lift can also extend the time spent in your own home.
Ramps, Handles and Rails
Navigating around your home when you have to deal with mobility issues can be tiring, as well as dangerous. Aids such as rails, handles and ramps can make a huge difference, and are often reasonably priced and easy to install in your home. Having something substantial to hold onto when stepping into your house or out of bed can reduce the risk of falls and makes moving around your home much more manageable. These types of aids can also increase your independence, and ramps can provide better access if you use a wheelchair or mobility scooter.
Walking Aids
Walking aids are an excellent investment if you have even minor mobility issues. A walking stick or crutches are useful for keeping by an armchair or sofa, and there are several designs to suit the individual. Some walking sticks are foldable, so they can be easily stored when not in use. Other walking aids such as tetrapods or tripods can be helpful if the user needs some extra balance when walking, as the three or four points offer more stability.
Another kind of walking aid is walkers and walking frames, which are ideal for people with poor balance and less strength in the upper body. Something like a four-wheeled walker is affordable and lightweight, and have arthritic friendly brakes and hand grips to make them easier to manoeuvre. Walkers often also come with a padded seat and some storage, so they can be used for a short trip to the shops.
Rise and Recline Chairs
A challenging aspect of mobility is the need to remain active to build up strength and movement, even when there is no motivation to do so. Rest is also important, but getting up out of a low-seated chair can be difficult. Rise and recline chairs often have a range of functions but primarily enable individuals to sit up and down without assistance, by raising the seat of the chair. Using a rise and recline chair improves independence and also offer excellent support when you just want to sit and relax. We have a range of rise and recline chairs available at Essential Mobility.
Bathroom Aids
Use of the bathroom is a necessary daily task that can be difficult for people who suffer from mobility issues. There are several bathroom aid solutions from specialised baths and showers, grab rails to raised toilet seats. You can also choose between a permanent or just temporary solution, depending on circumstances and budget. Many bathroom aids can be easily installed, but some may require a refit of the bathroom. For those who know they need a long-term solution, a walk-in shower or wet room may be appropriate.
Wheelchair or Mobility Scooter
A wheelchair or mobility scooter can be impractical for use in the home, but a few adjustments to furniture can help with easy manoeuvring around your home. A wheelchair or mobility scooter can also be kept in a place so you can make good of use of it as soon as you step outdoors. Get in touch with us at Essential Mobility to find out about the wheelchair and mobility scooter options we have available to hire.
Take a look at our previous blogs for tips and guides about mobility and mobility aids:
How do I know I need a mobility scooter?