Mobility scooters are often seen around British high streets, in use by people who face mobility issues and need an independent means of getting around. They are easily operated and help to enhance the quality of life for those that use them. If you are looking at hiring out one of our high spec mobility scooters, read on to find out some facts about them beforehand.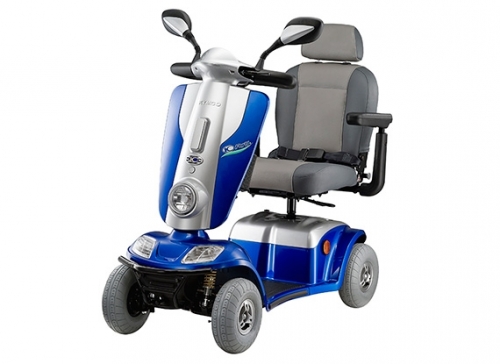 Mobility Scooters Don't Require a Licence
Class 3 mobility scooters can be taken on the road, at a maximum speed of 8mph, and as such they must be registered with the DVLA. However, you still do not need a licence to use it. If you are taking your mobility scooter on the road, you need to ensure it has an efficient and working brake system, lights and reflectors on both the front and rear and rear view or wing mirrors.
Mobility Scooters are Different to Electric Wheelchairs
Though their names are used interchangeably, mobility scooters are not the same as electric wheelchairs. Electric wheelchairs are designed for long-term use, and steered by a joystick, enabling them to be easily manoeuvrable both indoors and out. They also provide comfort and support for people who rely on them almost constantly to get around. Mobility scooters are low-cost ways allowing people to travel independently, indoors and out, and different classifications indicate the power and abilities of mobility scooters.
Mobility Scooters are Easy to Take Care Of
Mobility scooters can be easily maintained and kept in good condition. Regularly charging the battery and not pushing the scooter to the limit of its power will allow you to use it for longer. Avoiding harsh weather, such as heavy rain and hot sun, also helps keep the scooter in better condition, and frequent cleaning, to remove mud, leaves and stains also help.
There are Several Scooter Options Available
When it comes to choosing a mobility scooter for your specific needs, there are several options available. There are portable mobility scooters which can be disassembled or folded for easy transport in a car, to the medium sized which are ideal for short trips into town, or large all-terrain scooters for longer trips outdoors. There are also extras such as baskets that should also be considered when choosing the right mobility scooter.
Mobility Scooters Do Have Limitations
Mobility scooters do eliminate the manual strength needed for unpowered wheelchairs which makes them preferable for those with mobility issues, but there are limitations to be aware of. Hand strength and dexterity is required in order to manoeuvre scooters, and you may have to add features for a better leg, back and head comfort. One of the main limitations is the turning radius; a lot of mobility scooters are not suited for smaller spaces or pathways. Be sure to test out a scooter before hiring or buying it.
For more information about mobility scooters, be sure to take a look at some of our previous blog posts, from questions to ask yourself about whether you need a mobility scooter to the rules of use laid out by the government. We also have guides on the activities you can do while using a mobility scooter, from sports to try out and how to maintain an active lifestyle.