Sitting and standing is an action we do multiple times a day and as we age, it gets harder to due to various medical conditions. This can be from temporary injuries, joint pain, arthritis or back pain. One way to assist with the daily needs of moving from sitting to standing and vice versa, along with medical conditions, is with the use of a rise and recline chair. If you are considering investing in such a chair, read on to see the health benefits of doing so.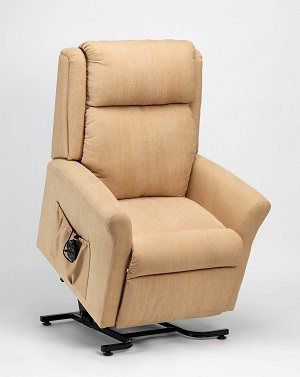 Ease of Standing and Sitting
Simple actions such as standing and sitting can be very frustrating when you begin to lose mobility, and for some, it can be painful. Rise and recline chairs can help with this problem, allowing users to simply touch a button and move the chair to a position where they can stand or sit much easier. Gradually tilting the chair forward means you can move in and out of the sea with minimal effort so you will not be putting a strain on knees, hips, backs or thighs. Rise and recline chairs often have adjustable seat positions to ensure extra comfort when you are sitting too.
Helps Relieves Back Pain
Though underlying and chronic medical conditions cannot be cured by using a rise and recline chair, a comfortable chair can help relieve the pain and complaints you are faced with. This relief can be because of comfort-enhancing materials, adjustable backrests and arms or built-in massage. If you have suffered from back pain or other chronic muscle or joint issues, treating yourself to a recliner chair can make a huge difference, physically and mentally. You will find a good chair can help you enjoy small things such as reading a book and watching TV.
Can Improve Circulation
No matter your age, sitting down for extended periods of time can be bad for your circulation, but the older you are, the worse it will affect you. Bad circulation can lead to life-threatening medical conditions. Using a simple feature on your rise and recline chair, you can lift your legs to an elevated position at the press of a button. Changing the position of your legs for even a short amount of time can help ease aches, pains and cramps and prevent swelling in your feet and legs.
Increase of Independence
Good health helps with independence, and increased independence can better your health. A rise and recline chair can help you stay independent for longer, especially if you prefer to get around yourself and don't want to feel dependent on others. The mechanisms allow you to move forwards, backwards and up and down which reduced your reliance on help from others. Starting with a rise and recliner chair can lead you to getting an all-terrain mobility scooter which will improve your independence outdoors.
Contact us today to find out about the mobility aids we can provide you and have a read of some of our recent blog posts:
Mobility scooter's rules of use