Plymouth city centre was the venue for a great fundraiser idea earlier this month, as several people on high spec mobility scooters cruised through the centre in an effort to raise funds and awareness for a local charity they rely on for support.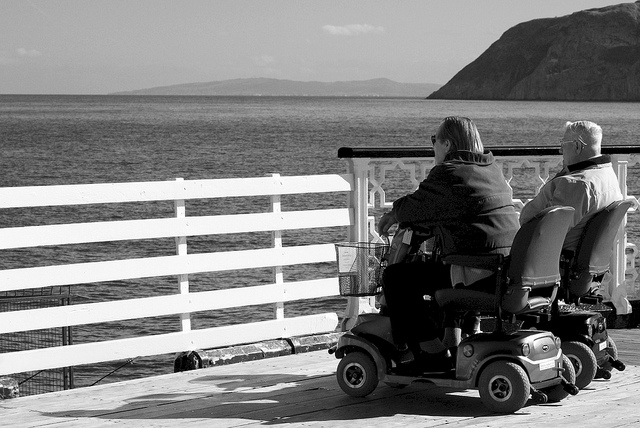 Seven people on their scooters started at the Access Plymouth base at Mayflower East car park, on 2nd September, at around midday before taking the 'conga' through Frankfort Gate and Drake Circus shopping centre.
The fundraiser's objective was to raise awareness of the much needed support the charity provide for their local users, such as short-term hire of mobility scooters for shopping trips and sponsorship money.
The conga could unfortunately not rely on the weather but despite wet conditions Erica Travies, the Access Plymouth fundraising officer, was pleased with the outcome of the event and a similar ride is being planned for next year.
Commenting on the event, Travies said: "The ride promoted the charity and raised awareness of the needs of people who use mobility scooters."
"It was a visual demonstration of the type of services we provide."
The fundraising event was a demonstration of mobility scooter users and their needs which are unfortunately not being completely met in Plymouth city centre.
"Our people spend a lot of money in town and some shops are completely off-limits because of poor accessibility. That's something we'll be looking at."
Plans for next year's event are well under-way with Travies stating: "Perhaps next year we'll look at sending everyone out on scooters with a shopping survey to see where they've been, what the access was like and any ideas for improvement so businesses realise how valuable we are."
70-year-old Bruce Abbott, user of the charity, joined them on their fundraising ride. Bruce noted the importance of mobility scooters for people with limited mobility.
"People need to be aware that we have the same rights as them to get around the city and to do our shopping and I think this ride helped draw that to people's attention, as well as trying to get the sponsorship."
"When I came to Plymouth 17 years ago, I could walk around but I have been using this service since 2003. I'm at the stage now where I would be isolated without a scooter, whether that's in town or while I'm at home."
Mobility scooters are a lifeline for people with limited mobility in ensuring an independent and sociable life.
Image Credit: socialBedia, Flickr. Available under Creative Commons.